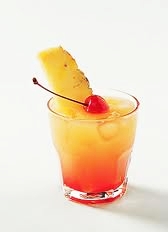 Preparation:in Martini glass
(yield: 1 cocktail)
Ingredients:
1/2 oz. Amaretto
1 oz. Rum, coconut (or coconut rum)
1/2 oz. Grenadine
4 oz. Orange Juice
Wedge of Pineapple
A definite beach drink! Shake everything except your garnishes in a cocktail shaker filled with ice. Strain into a highball glass half-full of cubed ice. Serve with pineapple wedge and a strawberry as a garnish.