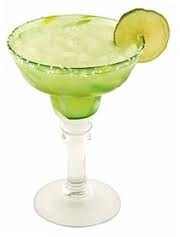 Margarita Drink Recipe
(yield: 1 cocktail)

Ingredients:
1 1/2 oz tequila
1/2 oz triple sec
dash of lemon or lime juice (freshly squeezed or condensed)
3 oz sour mix
lime wedge for garnish
salt or sugar to rim the glass (optional, as desired)
       Preparation:
Pour the ingredients into a cocktail shaker with ice cubes.
Shake well.
If desired, salt/sugar the rim of a chilled margarita glass.
Pour contents, with ice, into the glass.
Garnish with the lime wedge.
… the Origin of the Margarita (a couple of accounts according to Wikipedia)
There is no solid proof who "invented" the Margarita.The most accepted of all stories is that the Margarita was invented in October 1941, at Hussong's Cantinain Ensenada, Mexico, by bartender Don Carlos Orozco.One slow afternoon, Don Carlos was experimenting with mixing new drinks when a prestigious visitor arrived: Margarita Henkel, the daughter of a German ambassador, who lived with her husband Roy Parodi near the city in Rancho Hamilton. Don Carlos offered the drink to Margarita, and named it after her for being the first person to taste it.He concocted a mixture of equal parts tequila, orange liqueur and lime, served over ice in a salt-rimmed glass.
Another common story related the Margarita being invented a few years earlier at the Rancho La Gloria Hotel, halfway between Tijuana and Rosarito, Mexico, by Carlos "Danny" Herrera, for a former Ziegfeld dancer named Marjorie King.This story was related by Herrera and also by bartender Albert Hernandez, who is acknowledged for popularizing the Margarita in San Diego after 1947, at the La Plaza restaurant in La Jolla.Hernandez claimed the owner of La Plaza, Morris Locke, knew Herrera and visited Mexico often.