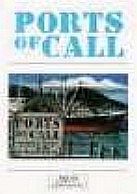 History of Port (part 2)
Which grape varieties are used to make Port?
There are a bunch of grape varieties used in
true Port (from Portugal's Douro Valley), most
of which are little known outside of Portugal.
Several other countries — including Australia,
South Africa and the United States — make
fortified sweet red wines and even whites that
are labeled as "port," though they may use
different grapes more common to their regions.
Some of the most important grapes for red
Ports are Touriga Nacional, Touriga Francesca,
Tinto Cão, Tinta Roriz (better known as
Tempranillo in Spain) and Tinta Barroca
(widely used in South African "Ports").
Somewhat less important are Mourisco Tinto,
Tinta Amarela, the rare Bastardo (also used
in Madeira), Tinta Francisca and Sousão.
The list goes on and on, but these are the
ones most likely to make up the largest
percentage of grapes in the blends and
single-Quinta Ports you will find.
The most common varieties being Touriga
Nacional, Tinta Barroca, Tinta Roriz and
Touriga Francesa.
Port requires long oak aging and vintages are
usually blended to keep a consistent taste.
It is fortified and aged in the bottles.
Port needs to be decanted and served in
narrow wine glasses to keep the alcohol from
overwhelming the flavors. It goes well with
cheddar cheese and also with chocolate. It
usually emits a black current aroma with a
peppery smoky aroma in its bouquet.
Port has the capacity to age sublimely,
Vintage Ports only peaking after 50 years
of aging.
There are five basic types of port wine.
Whites tend to be simple multi-vintage blends
that range from sweet to dry. The ruby and
orangey ports are also multi-vintage blends
which are sweet and can be aged. Dated ports
are the quality orange wines that are marketed
by their age.
Harvest ports are not blended and are aged
for at least 7 years. The final type is the
vintage ports. These are made from a single
harvest and are of very high quality.
The Oporto region is located in Northeast
Portugal, in the Douro River basin. It is
completely surrounded by mountains giving
the area a perfect and characteristic soil
and climate.
The Port region stretches over 250 000
hectares of land. Each year licenses are
awarded by the officials according to the
location, soil content, variety, and age of
the vines used for each vineyard. They are
classified then from A to F, with A being
the highest priced.
This is called the Beneficio system. This
system helps keep quality and style of Port
true to tradition and in high demand throughout
the world. Port is a huge industry for Portugal
(historically and now) and symbolizes Portugal
to the rest of the world.
See you in a couple of weeks… In the meantime,
enjoy your wines!
Brad Caskey
Durango Liquor & Wine
1145 S Camino Del Rio # 101 (next to Walmart)
Durango, CO 81303
(970) 259-4900