Animals on Wine Labels?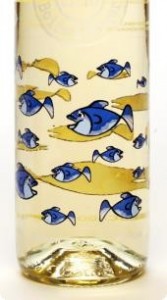 Hi –
An earlier eWine newsletter talked about the
marketing power wine label design elements
have…
Many consider the quality of a wine to be relative
to its 'cool' looking label.
Part of the reason for such labeling… from
birds, fish and kangaroos, to reproductions of
fine art and comic relief, is a move by wine
makers to make their bottles more of a novelty,
instead of something looking stuffy.
Be that as it may, the bottom line is that animals
and other forms of images are inclusive in the
trend of selling wine.
Celebrities like Marilyn Monroe, Elvis Presley,
Frank Sinatra, have shown-up on bottles. And
many entertainers are owners of vineyards…
Dave Mathews, is one example.
Other labels sport commissioned works by
renowned artists like… Gonzo painter, Ralph
Steadman, French realist, Balthus, and Sol
LeWitt of Connecticut, who is known for his
wall drawings.
Add to all of this… embossing, enameling and
cutout work. The array of labels are endless.
Of course, true wine connoisseurs are aware of
new label trends and tend to stay true to the
utmost of vino importance… its ambiance!
A wine still has to retain an interesting aroma
with a nice body and great taste!
The days of ochre (generally neutral) colored
labels and sparse decorations no longer apply
to many wines.
There are some fairly outrageous labels,
including ones for Bonny Doon depicting a
jailbreak and, a UFO hovering over a vineyard.
There doesn't seem to be many restrictions
anymore. The thought that labeling is to cute
for wine has gone by the wayside… now, nothing
in labeling is off limits.
See you in a couple of weeks… until then,
enjoy your wines!
Brad Caskey
Durango Liquor & Wine
1145 S Camino Del Rio # 101 (next to Walmart)
Durango, CO 81303
Now catch us on Facebook…